Escort, Hobby, Model, Membership or Shopping Carts – my Website Designer
Only The Best Web Designer
We Design, Develop, Photograph and Shoot Video of You.
On the web, it's all about Perception / Persona. That's where we come in. We make you look good to the important people = Your Clients. We build websites from small portfolio sites to large member sites with all the bell's. If you have an idea, give us a call. We can make it happen. In this industry, it's all about TRUST. Have a look below at one of the top two people in this industry.
What we offer you
 Escort, Hobby, Model, Membership and Ecommerce.
Responsive WordPress Themes (self adjusts to whatever device it's being viewed from)
Modern, Classy and stylish Designs
Easily update-able (We can teach you or if your just to busy, we can do it for you)
Sortable portfolios that allow 1000's of photos
Videos that can be viewed on any device (You don't see this often in this industry)
We'll host your site and help you purchase the right domain name
Screening forms that send all the users info to you or anyone you like
Schedules / Calendars that allow user subscriptions
Members area that requires monthly or one time payment
Shopping carts (sell your products in your own store)
How we service you
 We make it our goal to make it easy for you.
Site edits are only a phone call away
Support that never stops, We are always here to help.
We can shoot photos and Video, edit, retouch, upload and publish (Raw to Classy)
We give good advice. Legal and Business (Many years of experience in many industries, take our word for it 🙂
Give Us a Call, Send Us an Email or visit our site www.pxmediainc.com.
Mainstream or just Cream, we do it all.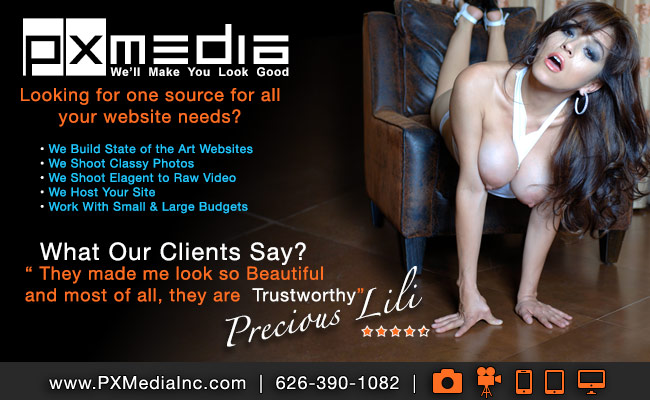 Endorsed by our two favorite people 🙂
Giancarlo and I feel blessed to have Douglas in our lives. He came to us through a recommendation as an honest, knowledgeable and efficient web designer. He is much more than that.
Douglas is one of the nicest, kindest, most respectful persons we have ever met. We felt that from the first communications we exchanged. We basically laid out an outline of what we wanted done, Within five days, there was a budget a plan and a consensus. We started working on this project at the start of October and by the Mid November, it was completed on schedule and within the budget.
In six weeks, Douglas put together what many said could not be done. He took the time to understand our needs, research the elements and adapt them to our site. Yes, it is quite unique and we still have many new surprises ahead. There were many things we were not aware of and Douglas made sure we had done things correctly. He did not have to but he did. He does not want us to be successful, he wants us to be highly successful. Fortunately, this time, We have Douglas to make sure things get done and done right.
We recently had the pleasure of meeting him personally in Pasadena a few days before Thanksgiving. I asked him to direct and shoot our latest material. Wow! If I was impressed with him before, I simply fell in love with him over those three days. We spent a lot of quality time together and started a friendship I know will last forever. He is that special. He is a very talented and spiritual man that exudes confidence. We all felt right at home with him and he made it possible for all of us to enjoy the shoot and our time in Pasadena.
He is a gifted person who puts his heart and soul into everything he does. To give you an idea, without asking, he will come out of the blue and do something new on the site. Then he will shoot an email asking what we think. When we do, we are just amazed every time. We never met anyone have so much fun doing what he loves as much as we do. We feel him, We love him and recommend him with the conviction that you will feel the same way we do.